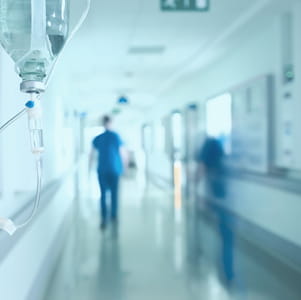 A REPORT looking at 'never events' in 18 hospital trusts in England found that staff struggle to cope with large volumes of safety guidance, with little time and space to implement guidance effectively.
This is a key conclusion from research conducted by the Care Quality Commission (CQC) at the request of the Secretary of State for Health and Social Care, aiming to understand the barriers to delivering safe care and identify learning that can be applied to improve patient safety.
The CQC report, Opening the door to change, examines the issues that contribute to the occurrence of never events and wider patient safety incidents in NHS trusts in England.
It found that, while staff try to implement guidance, this is often on top of demanding and busy roles which make it difficult to give such measures the required priority. The report also concluded that within the wider healthcare system, different parts at national, regional and local level do not always work together in the most supportive way, with confusion over the roles of different bodies and where trusts can find the most appropriate support.
Education and training for patient safety also could be significantly improved with more appropriate training at undergraduate level and after staff have embarked on clinical careers.
Professor Ted Baker, CQC's chief inspector of hospitals, said: "NHS staff do a remarkable job to keep patients safe. But despite their best efforts, never events and other patient safety incidents continue to happen. In theory these events are entirely preventable: in practice too many patients suffer harm.
"Staff know that what they do carries risk, but the culture in which they work is one that views itself as essentially safe, where errors are considered exceptional, and where rigid hierarchical structures make it hard for staff to speak up about potential safety issues or raise concerns.
"Everyone – including patients – can play a part in making patient safety a top priority and the recommendations we make today aim to achieve that. But there is a wider challenge for us all to effect the cultural change that we need, to have the humility to accept that we all can make errors – so we must plan everything we do with this in mind.
"This change in approach is essential if we are to create a just culture where learning is shared, and where solutions are created proactively to manage risk. Only then will we be able to reduce the toll of never events and the much greater number of other safety incidents."
The review was based on evidence gathered by inspectors during visits to 18 NHS trusts, and through group discussions with frontline staff, patients, and experts from other safety critical industries.
Professor John Dean, RCP clinical director for quality improvement and patient safety at the Royal College of Physicians, commented: "We welcome today's CQC report regarding Never Events as well as the development of the Patient Safety Strategy for the NHS, which should both sit side by side. This is an important time to focus on the way that clinicians, patients and the service work together to minimise harm or the potential of harm from care - overcoming challenges and learning not only from each other nationally, but from other sectors.
"We must move from a place where we assume care is safe until something goes wrong, to working in a way as teams that minimises the chances of harm. This should build in safety to daily practice, and be open and supportive when error occurs. The RCP looks forward to providing continued support to national bodies and providing essential support to front line staff. We must ensure patient safety is a core part of professionalism and patients are involved at every stage."
This page was correct at the time of publication. Any guidance is intended as general guidance for members only. If you are a member and need specific advice relating to your own circumstances, please contact one of our advisers.