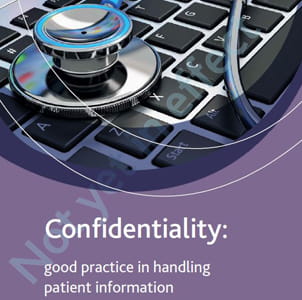 DOCTORS may be allowed to breach confidentiality without consent to protect a patient from a serious crime such as murder – even if no one else is at risk, according to updated guidance from the General Medical Council.
In "very exceptional circumstances", disclosure without consent may be justified in the public interest even if a patient with capacity has refused and no one else is at risk. But the regulator says there must be clear evidence of an "imminent risk of serious harm" and advises clinicians to seek independent legal advice before acting.
The advice forms part of the GMC's new "revised, expanded and reorganised" Confidentiality guidance which comes into effect from April 25, 2017 and applies to all doctors practising in the UK. It will replace the current guidance which was published in 2009.
Running at approximately 30 pages longer than the 2009 version, the new guidance promises clarifications on:
The public protection responsibilities of doctors, including when to make disclosures in the public interest.
The importance of sharing information for direct care, recognising the multi-disciplinary and multi-agency context doctors work in.
The circumstances in which doctors can rely on implied consent to share patient information for direct care.
A new statement has also been included on the "significant role" that those close to a patient can play in their care, and "the importance of acknowledging that". The guidance states: "You must be considerate to those close to the patient and be sensitive and responsive in giving them information and support, while respecting the patient's right to confidentiality."
Doctors can make use of a decision-making flowchart and explanatory notes that show how the new guidance applies to more challenging situations, such as reporting gunshot and knife wounds or disclosing information about serious communicable diseases.
Link:
This page was correct at the time of publication. Any guidance is intended as general guidance for members only. If you are a member and need specific advice relating to your own circumstances, please contact one of our advisers.