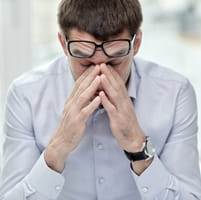 OVER 80 per cent of GPs in England believe that workload pressures are either unmanageable or excessive and are having a direct impact on the quality and safety of the care they deliver to patients, according to a survey by the BMA.
The survey drew responses from 5,025 GPs across England and 57 per cent described their workload as unmanageable, while 27 per cent described it as excessive.
The South East, the West Midlands, Yorkshire and Humberside had the highest rates (all 86 per cent) of GPs reporting unmanageable levels of workload.
GPs outlined a broad range of options to help tackle these problems, such as increased provision of enhanced community nurses to manage vulnerable housebound patients (64 percent), more help to enable patients to safely self-care (59 percent) and greater provision of mental health workers (53 percent) in the community.
Dr Chaand Nagpaul, BMA GP committee chair, said: "This major survey… demonstrates that GP practices across the country are struggling to provide safe, high-quality patient care because of unmanageable workload. Many practices are being overwhelmed by rising patient demand, contracting budgets and staff shortages which have left them unable to deliver enough appointments and the specialist care many patients need.
"Addressing the crisis in general practice requires a clear strategy that tackles the numerous problems undermining local GP services."
New chair of the RCGP Professor Helen Stokes-Lampard said: "This echoes much of what the College has been saying for some time now – the relentlessness of the workload in general practice is a threat to our own health and our patients' safety.
"GPs will see a total of 1.3m patients today alone, and rising patient demand means GPs are carrying out more consultations than ever before - currently 370m a year and 60m more per year than even five years ago.
"The GP Forward View announced by NHS England earlier this year could provide a lifeline for our profession. We are now focused on making sure that the pledges in the GPFV become a reality, sooner rather than later, so that GPs and our teams are fully supported to provide excellent care for our patients now, and in the future."
This page was correct at the time of publication. Any guidance is intended as general guidance for members only. If you are a member and need specific advice relating to your own circumstances, please contact one of our advisers.