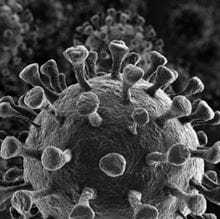 CONCERNS about the impact of coronavirus are dominating global headlines for weeks and have been credited with triggering "the world's biggest work-from-home experiment". How is your practice coping?
MDDUS has been receiving an increasing number of calls from members who are unsure how to handle issues such as employee absence, sick pay and staff members potentially falling ill at work.
Covid-19 is spreading quickly and governments around the world have been drawing up strategies to deal with it. In the UK, healthcare providers are urged to stay up-to-date with the latest advice from government and the NHS, while specific advice for employers and employees is also available on the Acas website.
Below are some key employment law questions around managing the coronavirus risk.
What should I do to minimise the risk to employees?
Send information and guidance to staff informing them of any actions being taken to reduce risks of exposure in the workplace. This should highlight relevant guidance from government/the NHS on the importance of hand-washing and of disposing of used tissues etc. Consider whether protective face masks might help people working in particularly vulnerable situations. The practice may also consider encouraging more patients to use telephone or video consultation services, if clinically appropriate.
What if an employee wants to self-isolate – do we still have to give them sick pay?
The practice's usual sick leave and pay entitlements apply if someone potentially has coronavirus and employees should be reminded to alert the manager as soon as possible if they're not able to come to work.
Employees who self-isolate are entitled to statutory sick pay (SSP) and a fit note is not required in the first seven days. Note that the government have announced SSP is to be paid from day one, rather than day four. It would be good practice to provide contractual sick pay in such circumstances. Be aware these employees may be unable to promptly provide a sick note/fit note if required to self-isolate for 14 days and employers may need to be flexible.
Some employees may not be ill, but may not wish to come to work through fear of contracting coronavirus. Or an employee may wish to stay home to care for someone who is unwell. There's no statutory right to pay for this time off, but some employers might offer pay depending on the contract or workplace policy.
If an employee refuses to come to work then the employer needs to speak with the person to see if there is a genuine concern. If there is not, then the employee would not be entitled to sick pay but could apply for annual leave (subject to the usual approval processes).
An employee who is caring for someone with the virus may feel they are at risk of contracting the virus and should therefore self-isolate. In these circumstances, they would receive SSP only if they have been advised to self-isolate by a doctor or NHS111. In the absence of such medical advice, the employee could apply for emergency time off for (unpaid) dependents' leave or request annual leave.
Discuss any concerns with the employee and try to reach a mutually agreed arrangement. Although not always practicable in clinical practice, one option could be to offer flexible working. Be clear that if an employee refuses to attend work without good reason, this could result in disciplinary action.
What if an employee falls ill at work?
If someone becomes unwell in the workplace with symptoms of coronavirus, they should:
get at least two metres (seven feet) away from other people
go to a room or area behind a closed door, such as a sick bay or staff office
avoid touching anything
cough or sneeze into a tissue and put it in a bin, or if they do not have tissues, cough and sneeze into the crook of their elbow
use a separate bathroom from others, if possible.
The unwell person should use their own mobile phone to call either 111 for NHS advice or 999 if they're seriously ill or injured or their life is at risk. They should tell the operator:
their symptoms
if they have travelled within the last 14 days, which country they've returned from.
What if someone who has coronavirus comes to work?
If this happens then the practice does not necessarily have to close. Depending on where your practice is, you should contact the Public Health England health protection team; Health Protection Scotland; or follow advice from the governments in Wales and Northern Ireland. Anyone who has had coronavirus, self-isolated for two weeks, and then tested negative for the virus would be safe to return to work.
What if we need to close the practice?
If the practice is forced to close for a short time then you still need to pay your employees. The only exception is if your employees' contracts state otherwise or an alternative agreement has been reached.
What if I have to lay off employees for a period of time?
The government have also brought in a scheme that means you can "furlough" employees and apply to the new Coronavirus Job Retention Scheme, introduced on 20 March 2020. This scheme allows employers to claim a grant from HMRC to be reimbursed to cover 80 per cent of the wages of employees who are not working but kept on the payroll (up to a cap of £2,500 per month for each employee) in circumstances where the alternative was to lay off the staff (or make them redundant). The government will reimburse the employer for wages paid, not pay the employee direct. If you furlough an employee, they cannot work for you and this should be confirmed to them in writing. A template letter can be obtained from the employment law department at advice@mddus.com.
Harassment of staff or patients
There have been reports of incidents of harassment against people from countries such as China and Italy that have been particularly affected by the outbreak. In light of this, employers are being reminded that all staff should be treated equally regardless of race/ethnicity (or any other protected characteristic).
Janice Sibbald is an employment law adviser at MDDUS
Please note this advice is valid as at March 27, 2020.
Follow the links below for the most up-to-date national guidance:
This page was correct at the time of publication. Any guidance is intended as general guidance for members only. If you are a member and need specific advice relating to your own circumstances, please contact one of our advisers.