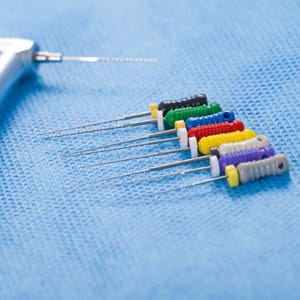 BACKGROUND: Mr P makes an emergency appointment at the dental surgery with pain at LR7, especially on biting and chewing. The tooth has a troublesome history with a deep filling and numerous restorations. The dentist – Dr F – takes radiographs. She diagnoses irreversible pulpitis, with apical infection visible on the radiograph, and discusses options with the patient: root treatment or extraction. Mr P opts for root canal treatment (RCT).
The pulp is extirpated under rubber dam and the tooth dressed with ledermix and glass ionomer. Five weeks later Mr P returns to the surgery to complete RCT.
Over the next few months Mr P attends twice complaining of sensitivity to heat and cold in LR7 and adjacent teeth. Dr F treats with desensitising fluoride varnish.
Four months later Mr P relocates to another city and registers with a new dentist. He attends for a routine check-up and complains of continued sensitivity in the lower right quadrant and pain on chewing. A radiograph reveals periapical radiolucency and a fractured instrument in the mesial canal of LR7.
Mr P is referred to a specialist endodontist who undertakes a re-root canal treatment and manages to retrieve part of a file. A large composite core is placed prior to final crown impressions.
A letter of claim is sent to Dr F alleging clinical negligence in her treatment of Mr P. It is claimed that during RCT of LR7 a file used to clean the mesial canal fractured and was unable to be retrieved. Mr P further alleges that Dr F failed to inform him of the adverse incident, nor did she offer to refer him to a specialist endodontist.
It is claimed this led to an extended period of pain and necessitated retreatment, possibly compromising the viability of LR7.
ANALYSIS/OUTCOME: MDDUS instructs a dental expert to assess the case. A review of the patient records reveals that Dr F had noted that there might be a file fragment lodged in the mesial canal. She includes a reminder to undertake a periapical radiograph at the next visit but there is no record that this was done. In her account of the treatment, Dr F claims that she informed the patient of the broken file but admits that she failed to record this communication in the notes.
In offering an opinion on the treatment provided by Dr F, the dental expert states that the fracture of an endodontic instrument or file during RCT is unfortunate but not necessarily negligent. However, Dr F should have informed Mr P immediately of the incident and offered him a referral to an endodontic specialist. Dr F should also have kept the tooth under radiographic review and had ample opportunity to do so in subsequent visits.
The expert further concludes that the failure to inform Mr P of the complication led to months of intermittent pain, and root canal re-treatment could possibly reduce the long-term viability of the tooth.
MDDUS agrees with the member to settle the case for a modest sum.
KEY POINTS
Dental professionals have a professional duty of candour to be open and honest with patients when something goes wrong with their treatment.
Ensure you record discussion with patients regarding any difficulty or complications in care.
An immediate apology and offer to put things right can often prevent a complaint escalating into a claim or regulatory matter.
This page was correct at the time of publication. Any guidance is intended as general guidance for members only. If you are a member and need specific advice relating to your own circumstances, please contact one of our advisers.