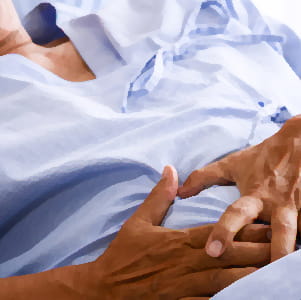 BACKGROUND: A 19-year-old student, Daniel, presents at the campus surgery complaining of abdominal cramps and vomiting. His flatmates have recently suffered similar symptoms. He is attended by Dr J and reports having been sick around 10 times (but less frequently that morning), along with some episodes of diarrhoea. Dr J notes that the patient is apyrexial with a heart rate of 68 and respiratory rate of 14. The GP exams his abdomen and notes: Abdo – soft. Mild generalised tenderness.
Dr J concludes that Daniel is likely to be suffering from gastroenteritis and advises him to take paracetamol and drink plenty of fluids. He is also instructed to seek further medical care if the symptoms do not resolve or he becomes more unwell.
Three days later Daniel is brought to A&E by his flatmates in "agony" and is diagnosed with appendicitis. A note of the initial assessment records a three-day history of abdominal pain, abdominal distension, generalised tenderness and absent bowel sounds. The next day he undergoes an open appendicectomy. The surgeon finds a perforated appendix with copious pus in the abdomen.
Daniel has a difficult recovery with complications including a post-operative ileus, pleural effusion and hospital-acquired pneumonia. He is discharged nine days later.
A letter of claim later is sent to Dr J alleging breach of duty of care in failing to consider a diagnosis of appendicitis. It is alleged that this led to a delay in referral for further assessment and treatment, resulting in a perforated appendix requiring invasive surgery and a risk of associated complications.
ANALYSIS/OUTCOME: MDDUS seeks expert opinion on both breach of duty and causation in the case.
In his response to the claim, Dr J highlights that he did in fact consider a diagnosis of appendicitis when Daniel presented with abdominal pain. He carried out an abdominal examination and checked heart rate, respiratory rate and temperature, as recorded in the consultation notes. Dr J's position is that he felt that a diagnosis of appendicitis was unlikely on the basis of these findings.
The GP expert opines that it was reasonable for Dr J to conclude that Daniel's reported symptoms were consistent with gastroenteritis rather than appendicitis, and that the care provided was in keeping with that of a reasonable GP, exercising reasonable skill and care.
The primary care expert does however comment in his report that a more detailed record of abdominal findings would have been ideal, such as whether there was any guarding and rebound tenderness in the right iliac fossa and whether bowel sounds were normal.
In regard to causation (the consequences of breach of duty), expert opinion from a general surgeon concludes that Daniel was in the early stages of appendicitis when he presented to Dr J but no obvious signs were likely to have been present at that point. The expert considers that appendicitis would not have been diagnosed at this stage, even if the patient had been admitted. As such, an open appendicectomy would have been required in any event and the complications could not be attributed to delayed referral.
MDDUS prepares a letter of response repudiating the claim on the basis of the expert reports. Notice is later received that the patient has abandoned his claim and the case file is closed.
KEY POINTS
Ensure medical notes reflect key detailed observations upon which clinical decisions are based.
Document significant differential diagnoses considered and why they have been discounted.
Offer patients clear safety-netting advice on when to re-attend or seek emergency care.
This page was correct at the time of publication. Any guidance is intended as general guidance for members only. If you are a member and need specific advice relating to your own circumstances, please contact one of our advisers.