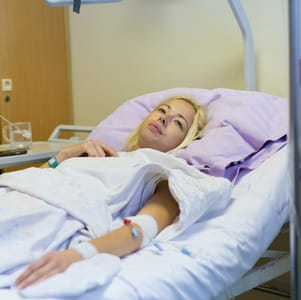 BACKGROUND: Ms W is 32 years old and presents at a busy ED with abdominal pain and heavy vaginal bleeding. The previous day an ultrasound had confirmed a miscarriage at nine weeks pregnancy and the patient had been administered medication (misoprostol) to speed up the process. This is Ms W's second miscarriage and she and her partner have been trying for a baby for over three years.
An ST – Dr J – attends the patient along with a nurse and, on examination of the cervix, finds blood clots along with products of conception. These are removed and placed on a sanitary pad as there is no specimen pot on the trolley. A healthcare support worker is sent to find a specimen pot and in the interim period Ms W is left alone with her partner in the treatment bay. Three hours later she is discharged.
A week later the health board receives a letter of complaint from Ms W in regard to her experience in the ED. The letter states that she was left in the waiting area for over an hour in severe pain before being taken to a treatment bay. Dr J arrived looking "harassed" and offered only "perfunctory" condolences to Ms W on her "failed pregnancy". Ms W then describes how the doctor removed the "tissues" and left her baby on a sanitary pad in full view for over ten minutes.
Ms W found the entire process "completely dehumanising", with staff referring to her within earshot as the "gynae". No one seemed able or willing to acknowledge the trauma she was going through or her distress at the "callous treatment" of her fetus.
ANALYSIS/OUTCOME: Dr J consults an MDDUS adviser to assist in reviewing her response for the health board in reply to the complaint. Given the patient's very negative perception of her treatment, the adviser suggests that Dr J focus on how she might have acted differently – in particular the suggested lack of empathy and how staff dealt with and referred to the fetus and placenta ("tissues").
It is suggested that the doctor consider adding learning points and substantive actions taken to address these points, after discussion with her educational supervisor. These would include more effective patient communication before and during examination and treatment, including careful use of language and the need to be more empathetic and mindful, no matter how rushed or chaotic the circumstances.
KEY POINTS
Avoid dehumanising shorthand references to patients in both written and verbal communication.
Take care to ensure respectful tissue handling.
Treat your patients as you would want your family treated.
This page was correct at the time of publication. Any guidance is intended as general guidance for members only. If you are a member and need specific advice relating to your own circumstances, please contact one of our advisers.