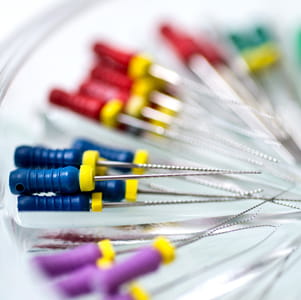 BACKGROUND: Mr P, 52, attends his dentist, Dr N, with pain in the upper right quadrant. Clinical and radiographic examinations reveal tenderness to percussion and widening of the periodontal ligament space (indicating formation of an abscess) associated with UR8. Dr N diagnoses irreversible pulpitis and suggests root canal treatment (RCT) or extraction. Mr P is further advised that the root canals of UR8 look sclerosed on the radiographs and may be difficult to locate.
Dr N explains that the success rate for RCT is around 80 per cent. The patient agrees to the procedure as UR8 is the only standing molar and retains Mr P's partial upper denture.
Five weeks later Mr P attends the surgery for the first stage of RCT to UR8, which is carried out using rubber dam and rotary instruments and is irrigated with sodium hypochlorite. Dr N has difficulty locating one of the root canals and asks for help from a colleague. It is eventually located and the rest of the treatment is carried out as planned. The tooth is temporarily restored and Mr P is advised of possible post-operative soreness over the next few days and is asked to contact the practice if the discomfort does not resolve.
Dr N completes the RCT treatment a week later using a local anaesthetic under rubber dam. A post-operative radiograph is taken and this shows a good quality root filling present. Mr P had reported some tenderness over UR8 for the previous few days and is again advised of possible post-operative tenderness and told to contact the practice if the symptoms persist.
Two weeks later Mr P returns to the surgery complaining of pain associated with UR8 and also UR2. Clinical examination reveals tenderness to pressure on UR8 but no occlusal disharmony (i.e. disturbance to his bite) and Dr N advises the patient that the tooth should settle given time.
UR2 is found to be tender with palatal pressure but there are no other clinical signs. Dr N suggests two possible causes for the pain: a recurrent infection due to a failing root filling (present for 15 years although with no previous problems) or a root fracture. The dentist advises that in either case the prognosis for the tooth is poor. A radiograph is taken but there is no obvious root fracture – just evidence of a badly aligned post and early abscess formation around the root. This is the last time Mr P attends the practice.
A letter of claim is sent to Dr N alleging clinical negligence in his treatment of Mr P. It claims that Dr N failed to clean/fill the patient's root canals at UR8 to an appropriate standard and that he had to ask for help during the treatment. It is also alleged that Dr N put pressure on UR2 while undertaking the second part of RCT on UR8, causing a root fracture which he later failed to diagnose.
ANALYSIS/OUTCOME: MDDUS instructs an endodontic specialist to provide an expert opinion. Subsequent disclosure of the full dental records reveals that Mr P attended a different dentist after the treatment by Dr N. This dentist advised the patient that the RCT of UR8 was substandard and the procedure was redone – and it is further claimed that the previous gutta percha (GP) root fillings were easily removed with tweezers.
The endodontic specialist examines Dr N's treatment records which record in detail the treatment plan and consent discussions with the patient. The post-RCT radiograph taken by Dr N shows well-condensed root fillings present and the expert questions the second dentist's claim that they could be removed by tweezers.
The expert states that in carrying out the RCT over two appointments Dr N was following best practice. Requesting assistance from a colleague does not suggest the treatment fell below a reasonable standard of care and it is noted that Mr P was warned that the root canals looked sclerosed and might prove troublesome.
The expert also reasons that it would be highly unlikely that Dr N exerted pressure on UR2 whilst carrying out RCT on UR8, given the dentist is left-handed and would not have used UR2 as a stabilising point. The radiograph taken by Dr N of UR2 shows no sign of a root fracture but rather evidence of abscess formation, which was the likely cause of the pain.
MDDUS sends a letter of response denying negligence and nothing further is heard from Mr P's solicitors. The case is eventually closed on expiry of the legal limitation period.
KEY POINTS
Good record keeping is invaluable in defending against negligence claims.
Ensure patients understand what can be reasonably expected from treatment.
This page was correct at the time of publication. Any guidance is intended as general guidance for members only. If you are a member and need specific advice relating to your own circumstances, please contact one of our advisers.