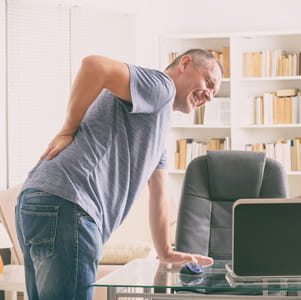 BACKGROUND: A practice manager contacts the advice line in a regard to a patient with lower back pain who had previously been issued a Med 3 (fit note). The fit note will soon expire and Mr B – who has a desk job – is still in obvious pain and has asked for more time off.
In discussing his condition with a GP, the patient confided that he does some volunteer work and is undertaking a part-time course at college. The GP expressed his reluctance to "tick the box" advising that Mr B is not fit for work, given the patient's other activities. He asked about other possible options, such as a phased return to work or amended duties. Mr B has now phoned the practice manager again demanding that the GP sign him off for another six weeks. The practice manager asks for advice on how to respond.
ANALYSIS/OUTCOME: An MDDUS adviser responds pointing out that the Department of Work and Pensions provides specific guidance on issuing fit notes. This states that GPs should provide simple fitness for work advice (not job specific) to a patient to help them return to work and it is then up to that patient and their employer to discuss this advice and consider possible solutions.
The Med 3 form offers the option to tick: "May be fit for work taking account of the following advice", along with an open field to provide advice on the functional effects of a patient's condition. This offers flexibility to the patient and their employer to discuss ways to accommodate the condition, which might include changing duties or reduced hours.
The adviser also directs the practice manager to GMC guidance which states that doctors must be "honest and trustworthy when writing reports, and completing or signing forms, reports and other documents" and must ensure that any such documents are not "false or misleading". It also states that doctors should use their own judgement when applying these principles in their everyday practice and that they must be able to explain and justify any decision made or action taken.
The practice manager is advised that such guidance would be relevant in explaining to Mr B the basis for any decision on fitness to work. In addition, the GP should be available to discuss the basis of the decision and it should be made clear that, if the patient remains unsatisfied, he is entitled to seek a second opinion.
KEY POINTS
Consult relevant guidance in discussing and issuing fit notes.
Ensure you are able explain and justify any decision made or action taken in addressing a patient's fitness to work and record this in the notes.
This page was correct at the time of publication. Any guidance is intended as general guidance for members only. If you are a member and need specific advice relating to your own circumstances, please contact one of our advisers.