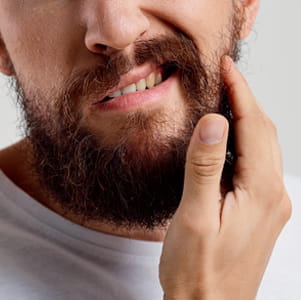 BACKGROUND: Mr J is 35 years old and attends his dental surgery complaining of jaw pain with difficulty opening his mouth and chewing. Dr K examines the patient and undertakes a radiograph which indicates an un-erupted and impacted LL8. She diagnoses pericoronitis with infection and explains to Mr J that this is the cause of his jaw pain. An antibiotic is prescribed but Mr J is advised that the impacted wisdom tooth may need to be extracted.
A week later Mr J returns to the surgery still in pain and a treatment plan is devised to extract non-functional LL7 in order to allow removal of impacted LL8. Five days later the procedure is undertaken and LL7 is removed but Dr K is unable to extract LL8. Mr J is instructed that with LL7 extracted, LL8 should now erupt but he is advised to re-attend the practice in a month's time if the pain has not resolved.
Over the next two months Mr J experiences ongoing jaw pain and is referred to dental hospital. A diagnosis of temporomandibular joint (TMJ) disorder is made, with referral for physiotherapy and pain management.
A few months later a letter of claim is received by the practice alleging clinical negligence in the treatment provided to Mr J. It states that Dr K incorrectly attributed the patient's ongoing pain to an impacted LL8 and failed to investigate other potential causes, including TMJ disorder. It further alleges that extraction of LL8 was unwarranted under accepted clinical guidelines – and thus the removal of LL7 was unnecessary.
ANALYSIS/OUTCOME: MDDUS instructs an expert GDP to review the case. He concludes that Dr J was incorrect in attributing Mr J's jaw pain to an impacted/infected LL8. The records indicate no investigative findings to support this diagnosis – such as raised or tender lymph nodes or intra-oral signs of infection such as inflammation or exudate from the periodontal pocket distal to LL7.
There is also nothing in the records to show that Dr J investigated the patient's TMJ. The expert agrees that pericoronitis can cause trismus of the jaw but TMJ disorder will also do that. The radiograph showed LL8 to be encased in apparently healthy bone with no areas of radiolucency around the tooth indicative of pathology. The expert cites NICE guidance which states: "Surgical removal of impacted third molars should be limited to patients with evidence of pathology."
The expert also concludes that there is no evidence to show that LL7 required extraction. Removal of the tooth would have been very unlikely to facilitate eruption of LL8 in a patient of Mr J's age. Nor would removal of LL7 have facilitated the extraction of LL8 given its position in the lower jaw, as Dr J apparently realised having left the molar in place.
The expert concludes (in regard to causation) that Mr J did suffer unnecessary discomfort with the removal of LL7 and ongoing pain before referral to dental hospital.
MDDUS lawyers negotiate a settlement of the case with agreement of the member.
KEY POINTS
Ensure treatment decisions reflect accepted clinical guidelines.
Make sure patients are fully aware of all treatment options.
Treatment decisions should be justified in the patient notes.
This page was correct at the time of publication. Any guidance is intended as general guidance for members only. If you are a member and need specific advice relating to your own circumstances, please contact one of our advisers.