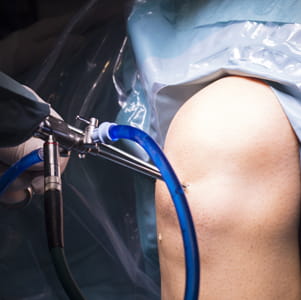 BACKGROUND: A 38-year-old woman – Ms J – presents to her GP practice requesting a sick note having had arthroscopic surgery for a meniscal tear in her left knee. The GP – Dr S – provides the note, recording that the patient is mobile with the aid of crutches.
Three weeks later Ms J attends the surgery complaining of pain and swelling in her left leg. Dr S examines the leg and notes persisting left knee pain with minimal non-tender swelling and a very tight bandage in situ. He advises the patient to remove the bandage and to continue with analgesia.
Ms J is back at the GP surgery six weeks later still complaining of a painful and swollen left leg. On examination Dr S notes tenderness and swelling and also that the left calf is 3cm larger in circumference than the right calf. The GP suspects a DVT and makes arrangements to refer Ms J to the local thrombosis clinic but there is no record of a referral made that same day.
The next day a work colleague of Ms J takes her to A&E complaining of chest pain. A senior registrar notes the swelling in her left leg. Investigations reveal extensive left leg deep vein thrombosis (DVT) and a CT pulmonary angiogram shows a clot in the distal left pulmonary artery.
Ms J is admitted to hospital and treated with heparin and commenced on warfarin therapy. Later she develops a respiratory infection which is treated with broad-spectrum antibiotics.
The patient is discharged from hospital a week later on warfarin under the care of the anticoagulation clinic. Her left calf is now soft and non-tender but she is prescribed further antibiotics to deal with a chronic chest infection.
A letter of claim is sent to the practice from solicitors acting on behalf of Ms J alleging clinical negligence in the care provided by Dr S. It is claimed that on two occasions the GP failed to urgently refer the patient to hospital for treatment of her DVT. This delay resulted in Ms J developing pulmonary embolism and requiring hospital treatment, with prolonged recovery complicated by a serious chest infection.
ANALYSIS/OUTCOME: MDDUS instructs a primary care expert to provide an opinion on the case. In regard to the second consultation in which Ms J presented with a painful and swollen knee the expert argues that any potential sign of DVT would have to have been persuasive given the patient was recovering from knee surgery. However, failure to remove the bandage in order to examine the knee did, in his opinion, constitute a breach in duty of care – as it is difficult to speculate what signs might have been present.
The expert is also critical of the third consultation in which it was clear that Ms J was at risk of DVT. An urgent same-day referral should have been made so that anticoagulation could have been started promptly to prevent pulmonary embolism.
A respiratory consultant is also instructed to provide a view on the consequences of the GP's actions in the case (causation). The expert states that – on the balance of probabilities – Ms J did have a DVT at the second consultation. Removal of the bandage and examination of the leg at that point would have likely revealed tenderness and an enlarged left calf in comparison to the right – with a Wells score of two or three indicating a moderate to high probability of DVT.
Urgent referral with a D-dimer test and ultrasound investigation would have confirmed DVT. Anticoagulation treatment with heparin and later warfarin would have prevented the pulmonary embolism. Urgent referral on the day of the third consultation – rather than a delay of 24 hours – would also have likely prevented pulmonary embolism and the later chronic chest infection necessitating an extended hospital stay.
Given the unsupportive expert views MDDUS settles the case with agreement from the member.
KEY POINTS
Consider expected post-operative findings masking other symptoms in diagnosis.
Facilitate urgent referral in cases with clear risk.
Record justifications behind clinical decisions.
This page was correct at the time of publication. Any guidance is intended as general guidance for members only. If you are a member and need specific advice relating to your own circumstances, please contact one of our advisers.