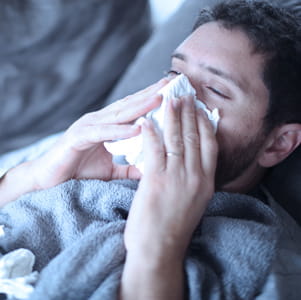 BACKGROUND: Mr P is a 43-year-old father of two children – slightly overweight but otherwise in good health. Just after Christmas he complains to his wife that he feels "off" and must be coming down with something. Over the next few days he develops a sore throat with a cough and fever. His condition grows worse and Mrs P phones her local GP surgery.
A receptionist takes a message and says a GP will phone back. Later that afternoon Dr J rings and speaks with Mr P regarding his symptoms. The GP tells Mr P that he is likely suffering from an upper respiratory tract infection (URTI) and that it should clear up soon. He advises him to take paracetamol and come into the surgery if there is any concern.
Later that night Mrs P phones an out-of-hours service and reports that her husband is "burning up" and having trouble breathing. A locum Dr K attends the patient at home and notes some tightness in the chest, pharyngitis and mild wheezing. The patient is found to be "warm" but no vital signs are recorded. The diagnosis is viral URTI with a slight wheeze and Dr K advises Mr P to see his regular GP if the symptoms do not improve.
The next day Mr P's condition further deteriorates and his wife calls for an ambulance. He is breathless and panicky with a tight chest and tachycardia. A senior registrar in A&E examines the patient and takes his vitals. He notes decreased breath sounds on auscultation and a chest X-ray confirms parapneumonic pleural effusion.
Mr P is commenced on intravenous antibiotics but his condition further deteriorates overnight. He is transferred to the intensive care unit and an echocardiogram reveals severely impaired left and right ventricular function. A few hours later Mr P suffers cardiac arrest and dies. A post mortem records the cause of death as multi-organ failure, sepsis and bilateral lower lobe pneumonia and pleurisy.
Solicitors acting on behalf of Mrs P issue letters of claim for clinical negligence against both GPs involved in her husband's care.
ANALYSIS/OUTCOME: It is alleged that Dr J breached his duty of care to Mr P by failing to make a home visit or urge the patient to attend the surgery for an examination – in which case the seriousness of his condition would have been recognised and appropriate antibiotic therapy prescribed preventing his sudden deterioration.
The locum Dr K is accused of failing to carry out an adequate examination. No vitals were recorded (BP, pulse, temperature, respiratory rate, capillary refill time). It is further alleged that he failed to prescribe appropriate medication (antibiotics) and urgently refer the patient.
MDDUS instructs a primary care expert to offer an opinion on the alleged breach of duty. She concludes that Dr J's management approach was reasonable given the reported symptoms and high seasonal prevalence of URTI. Dr K might be criticised for not recording vital signs but given that the patient looked well and at that point was suffering only from a sore throat and a mild wheeze – a reasonable body of general practitioners might have taken the same approach.
In regard to Dr K's failure to prescribe an antibiotic she does not find this unreasonable given the obvious symptoms of viral URTI and considering the general advice to doctors to be sparing in the use of antibiotics. A referral to hospital at this stage would not have been warranted nor would Mr P have likely been admitted.
Her overall view is that such a sudden progression to severe sepsis is rare and not something either GP could have predicted.
A respiratory physician is also instructed to comment on causation (consequences of the alleged breach). He concludes that had an antibiotic been administered on the first day Mr P spoke to his GP it is more likely than not the patient would have survived – but he agrees that such treatment would not have been indicated at this stage nor would referral to hospital.
A letter of response is drafted denying clinical negligence. MDDUS receives notice a few months later that the case has been discontinued.
KEY POINTS
Be aware of the limitations in telephone or online consultations.
Take and record vital signs as part of routine assessment.
Ensure adequate safety netting in patients with acute illness.
This page was correct at the time of publication. Any guidance is intended as general guidance for members only. If you are a member and need specific advice relating to your own circumstances, please contact one of our advisers.