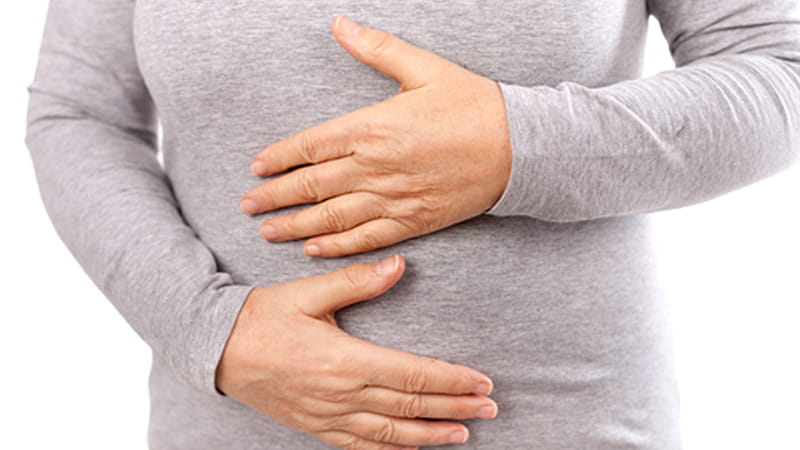 BACKGROUND: Mrs R is 53 years old and attends her GP surgery complaining of pain in the left side of her abdomen. She recently recovered from "gastric flu" but is now worried that she can also feel a lump near the site of the pain. Three years previous she was treated for breast cancer.
The patient is examined by Dr T who records a finding of spasm in the right iliac fossa with bloating. He diagnoses post-viral irritable bowel syndrome and prescribes mebeverine.
Two months later Mrs R returns to the surgery with recurring abdominal pain though she reports that the medication did help initially. She can also still feel a lump in her abdomen. On this visit Dr T orders a full range of blood tests but does not examine the patient's abdomen.
Five days later the results of the blood tests arrive and are reviewed by a locum GP – Dr N. All are normal apart from a marginal drop in haemoglobin to 113 (115 is the lower limit for adult females). Dr N highlights "slight anaemia" in the notes but judges it not to be significant enough for a patient recall and files the result.
Mrs R returns to the GP surgery one month later still complaining of abdominal pain and a definite lump. She also reports having lost weight. Dr T examines the patient's abdomen and on this occasion detects a palpable mass. An urgent two-week referral is made and a week later a CT reveals a large mass involving or arising from the small bowel.
Mrs R is admitted to hospital for a colonoscopy and biopsy confirms a diagnosis of colon carcinoma, though not one suggestive of spread from breast cancer. A week later she undergoes a hemicolectomy and a large mass is removed. The cancer is found to have spread outside the bowel and she is commenced on chemotherapy.
Four months later a letter of claim is received by the surgery naming both Dr T and Dr N. It is alleged that Dr T was negligent in failing to make an urgent two-week cancer referral after the patient presented with ongoing abdominal pain and a palpable mass; nor was the patient kept under review. It is also alleged that Dr N failed to flag up the low haemoglobin result which was suggestive of colorectal cancer.
ANALYSIS/OUTCOME: MDDUS – acting only on behalf of our member Dr N – commissions a report from a primary care expert. He considers the actions of Dr T in the first consultation and finds no fault in not making an urgent referral at this stage, accepting that the lump could have been interpreted as a spasm or bloating. He does question whether it would have been appropriate to carry out at rectal examination as called for in NICE guidelines but accepts that some GPs may not have done so in this situation.
Regarding the second consultation, he is of the opinion that with a complaint of ongoing abdominal pain and worries over a possible lump it would be mandatory to examine the abdomen and the failure to do so constituted negligence. Rectal examination would have likely revealed the presence of the mass and led to urgent referral. It is also unclear why Dr T ordered the blood tests. He also finds the quality of the clinical notes poor.
Considering Dr N's involvement the expert is of the opinion that the notes did not make it explicit as to why Dr T had ordered the blood tests. In this context he contends that although a marginally low haemoglobin result might be consistent with bowel cancer it is not indicative of it – and that Dr N actions in not issuing a recall of the patient do not constitute negligence. MDDUS responds on behalf of Dr N and he is dropped from the proceedings.
KEY POINTS
Ensure that the clinical notes reflect diagnostic thinking; just recording results is not adequate.
In checking results it is important to understand why tests were ordered.
Alerting the requesting clinician to potentially relevant results may be appropriate, especially where the rationale for the request is not clear to the reviewing doctor.
This page was correct at the time of publication. Any guidance is intended as general guidance for members only. If you are a member and need specific advice relating to your own circumstances, please contact one of our advisers.