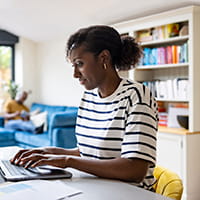 Have you received your MDDUS membership renewal for the coming year? If so, we're delighted to continue your membership for another year alongside 56,000 fellow health professionals.
It's important to make sure your details are up to date and reflect your current circumstances. If not, you may not be covered by the correct grade of membership and paying the right subscription, which could affect your ability to access membership benefits.
Here's how you can check your details and make changes.
Do it quickly online
Just log in to your membership account or use our member app which you can download from the App Store or Google Play.
It's quick to register using your email address if you don't have an account yet.
If you have forgotten your password to log in you can just request to reset.
Email us
You can email our membership team - membership@mddus.com – tell us your membership number, details of the required change and the date the change should be effective from and we'll come back to you.
Call us
Call the membership team on 0333 043 0000. We're available Monday to Friday 8am to 6pm.
Amending sessions or income online
Log in using your registered email address and password.
Click My membership and subscriptions.
Click Update.
Enter the date you require to make this change from.
Enter your new required membership level. If based on sessions, please note that one session is usually a half day in practice, either a morning or an afternoon and should last no longer than 5 hours. If based on earnings, we require the total annual gross income before any deductions.
Click on Update and then Confirm
Your updated certificate of membership will be available immediately at My membership and subscriptions. It will be under My full certificates.
If you need to change your level of income by more than £50,000 contact our membership team as this can't be done online.
Paying your subscription
If you pay your membership subscription via direct debit, your membership will automatically renew and payment will be taken from the account details we hold on file.
You can set up a direct debit with us at any time through My Account by calling us.
Click Invoices and payments.
Scroll to Payments, click Set Up under Direct Debit.

If you pay via card payment, we can only accept payment online via Your Account - this can't be paid over the telephone.

Go to Invoices and payments.
Scroll to Make a One-Off Payment.
Enter amount and click Proceed.
This page was correct at the time of publication. Any guidance is intended as general guidance for members only. If you are a member and need specific advice relating to your own circumstances, please contact one of our advisers.