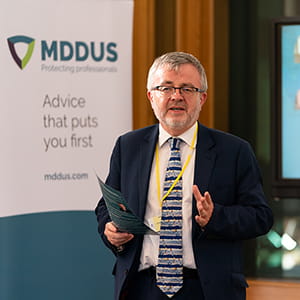 MDDUS Chief Executive, Chris Kenny, hosted a Parliamentary reception at Holyrood last week.
The event, sponsored by Miles Briggs MSP, offered politicians an opportunity to learn more about MDDUS and our work to support healthcare professionals across the UK.
Chris spoke about our latest member survey results – highlighting that three out of four GPs have faced an increase in verbal abuse or aggression from patients throughout the pandemic.
He stressed that the pandemic continues to affect the mental health and wellbeing of our members and that what is needed now is "recognition, reassurance and realism to support them so they can reset their relationship with patients ".
This page was correct at the time of publication. Any guidance is intended as general guidance for members only. If you are a member and need specific advice relating to your own circumstances, please contact one of our advisers.