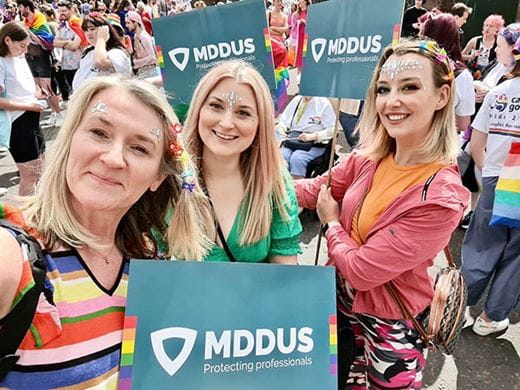 MDDUS marked Pride Month by joining the thousands taking part in the Pride Glasgow March on June 25 – to demonstrate support for LGBT members, customers, colleagues and the community.
Last year the organisation strengthened its commitment to championing the interests of all its members and colleagues by updating its Equality, Diversity and Inclusion statement.
It has since joined the Association of Financial Mutuals (AFM) Mutual Diversity Alliance – an initiative that helps businesses become as accessible and inclusive as possible.
Director of People and Corporate Services, Kim Johnstone, said: "Taking part in Pride is one way we can demonstrate to our members, colleagues and the community that we are an inclusive organisation who celebrates diversity.
"In the last year, we have taken steps to be as inclusive as possible – including focusing on our recruitment and development process to develop our diverse workforce and sharing learning and best practice with other organisations through the Mutual Diversity Alliance.
"We are also putting in place a colleague Diversity and Inclusion group which will help drive forward our plans.
"It is important to us that our colleagues feel safe and able to be their true selves at work. We know that when they can do so, they are best placed to support members and customers in their time of need.
"We wish all our members, customers and colleagues a very happy Pride Month."
This page was correct at the time of publication. Any guidance is intended as general guidance for members only. If you are a member and need specific advice relating to your own circumstances, please contact one of our advisers.