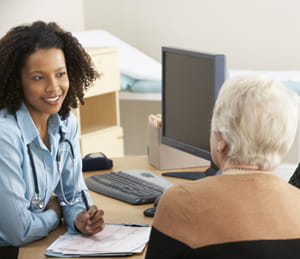 MDDUS has welcomed new guidance published today by the General Medical Council (GMC) to support shared decision making between doctors and patients.
The GMC has confirmed that the new Decision making and consent guidance will take effect from Monday 9 November and follows extensive consultation with doctors, patient groups, health service employers and healthcare and legal experts. It is intended to help doctors have meaningful conversations with patients about their treatment and care options, and is designed to be easy to follow, taking account of the pressures doctors are under at work.
The guidance includes a single page summary with key principles doctors need to know and a focus on the importance of taking a proportionate approach, tailored to individual patients.
Dr John Holden, head of medical division at MDDUS, said: "The publication by the GMC of updated guidance on decision making and consent is particularly timely. It recognises the pressure on doctors of time and resources, which is highly relevant during the current pandemic.
"Decision making and gaining consent is so much more than just a signature on a piece of paper.
"It's enormously important these are arrived at effectively through a two-way process that's centred upon meaningful dialogue between doctor and patient."
The updated guidance lists seven principles of decision making and consent, including:
All patients have the right to be involved in decisions about their treatment and care, and to be supported to make informed decisions.
Decision making is an ongoing process focused on meaningful dialogue, based on the exchange of relevant information specific to the patient.
All patients have the right to be listened to, and to be given the information they need to make a decision and the time and support they need to understand it.
Doctors must try to find out what matters to patients so they can share relevant information about the benefits and harms of proposed options and reasonable alternatives.
Doctors must start from the presumption that all adult patients have capacity to make decisions about their treatment and care. A patient can only be judged to lack capacity after assessment in line with legal requirements.
Dr Holden added: "I am also pleased to see the GMC recognise that not every aspect of the guidance must be met to avoid the risk of a regulatory investigation; rather, the guidance may be applied proportionately, with regard to the complexity and potential impact of an individual decision.
"The flexibility built into this revision of the GMC's guidance takes into account the challenges presented by COVID-19. MDDUS welcomes this as it builds on the GMC's statement on how it will conduct fitness to practise hearings relating to complaints made during the pandemic."
This page was correct at the time of publication. Any guidance is intended as general guidance for members only. If you are a member and need specific advice relating to your own circumstances, please contact one of our advisers.