Here, dental adviser Sarah Harford gives her reflections.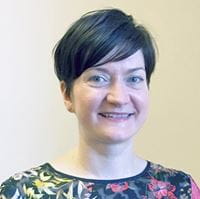 Sarah joined MDDUS in 2018, having qualified in Newcastle-upon-Tyne in 2001 and obtained an LLM in Cardiff in 2017. She has worked as a general dental practitioner in the NHS, and in mixed and private practices in both independent and corporate settings.
What was your inspiration for entering dentistry?
I went to an all-girls secondary school in Yorkshire which instilled in us a desire to be strong, independent women, and pursue a professional career. I was considering whether to go down a legal or medical route and in the end decided on dentistry. The practical hands-on nature of the job appealed to me and, at the time, the promise of job security after leaving university.
What most attracted you to the area you have specialised in?
I feel very lucky as, ultimately, I have combined my interest in dentistry and law, in becoming a dental adviser. In 2017, I completed a Master of Laws in Legal Aspects of Medical Practice, which enthused my interest in medico-legal matters. Every day I feel privileged to have had the opportunity to work as a dentist and then continue to use my dental knowledge in my work as a dental adviser.
What do you consider to be the most rewarding and the most challenging aspects of your job?
One of the most rewarding aspects is supporting members at challenging times, working with them to help resolve complaints, claims and regulatory matters. I gain the greatest satisfaction in working together to achieve the best possible outcome. The most challenging aspect of my work as a dental adviser is work volume. Whilst working as dentist, I gained greatest satisfaction helping nervous patients overcome their fears. As dentists, we provide invasive treatment on conscious patients, and have time deadlines to meet for each and every patient. My clinical experience means I can put myself in the shoes of every member that calls our advice line and can entirely understand the distress caused by a regulatory investigation.
How do you consider your role has changed over time?
I have moved from treating patients to supporting and assisting dentists in times of need. It has felt like a natural transition and I feel privileged to have made use of both my dental and legal knowledge.
On International Women's Day, what would be your message to other women who are considering entering the field of dentistry?
The number of women pursuing a career in dentistry is ever-increasing. Dentistry has its challenges, but it can be an extremely rewarding career with a reasonable work-life balance. There should be no limit to women's aspirations to pursue whatever career they wish. Seize every opportunity.
This page was correct at the time of publication. Any guidance is intended as general guidance for members only. If you are a member and need specific advice relating to your own circumstances, please contact one of our advisers.