Here, joint head of legal Sara Foster gives her reflections.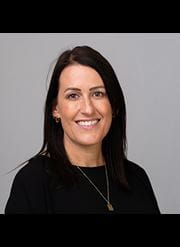 Sara obtained a degree in English Literature from Oxford University before qualifying as a solicitor in 2006. She trained at Bevan Brittan LLP where she gained experience of NHS claims, inquests, professional regulation, mental health and general health law. Sara joined MDDUS in October 2006.
What was your inspiration for entering a career in law?
My father is a barrister, and so you could say I grew up in a legal family. I started studying law at university but found it was taught in a very academic and uninspiring way, so I changed courses to English. When I graduated I still had an interest in the law, having done some mini-pupillages and work placements with solicitors. I was attracted to a job where you were always learning and facing challenges. I therefore decided to go to law school a year after I left university.
What most attracted you to the area of law you have specialised in?
I have always been interested in medicine and the way the body works but was useless at sciences at school so could never have become a doctor. Becoming a lawyer defending doctors was the next best thing. I loved the human interest aspect of medical law and the fact that you would also be learning about medicine whilst practising law. I also thought it would be interesting being exposed to doctors and dentists, as both members and experts, and I wasn't wrong.
What do you consider to be the most rewarding aspects of your job?
I love the fact that you are genuinely helping people at what is often the most stressful time of their career. Your input and support can be invaluable and it is very rewarding when you get a good result for someone and you can see what a difference it has made to them.
How do you consider your role has changed over time?
When I first started at MDDUS I was one of only three lawyers in our London office. We have since grown and there are now over 20 of us. My job has become more managerial over the years but I do still enjoy the case work as much as ever.
On International Women's Day, what would be your message to other women who are considering a career in law?
I would say go for it. It is a rewarding and interesting career and certainly one in which I have also managed to achieve a work-life balance and still find I learn new things each day.
This page was correct at the time of publication. Any guidance is intended as general guidance for members only. If you are a member and need specific advice relating to your own circumstances, please contact one of our advisers.