Here, medical adviser Dr Roopinder Brar gives her reflections.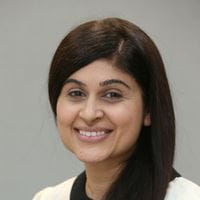 Dr Roopinder Brar qualified in 2010 from The University of Newcastle with a merit. She gained her DRCOG and Masters in Medical Law and Ethics with merit from The University of Manchester, whilst completing her training in general practice. She joined MDDUS in 2016 and continues to work in general practice with a special interest in gynaecology .
What was your inspiration for entering medicine?
When I was 10 my mum came into my room in the middle of the night unable to breathe. She suffers with asthma but it was obvious that her inhalers weren't helping. I have never seen her so helpless. She's a tough woman who is never fazed by the obstacles life throws her way. To see her in that state was something I will never forget. I was so scared. When the ambulance arrived they were simply amazing. I watched as they stabilised her, treated her and took her to the emergency department. The A&E team were fantastic. Whilst it was scary watching my mum in this condition, I was in awe of the healthcare team who worked together to patch up my mum and send her back home once she was better. I proudly announced to my mum that when I grow up I wanted to be a doctor, so I would help her and other people like her when they were unwell. She promptly reminded me that I would need to be less resistant to doing my homework, if I wanted to study medicine! She also warned me about this being a very hard job. As always, she was right.
What most attracted you to general practice?
In general practice, anything and everything can walk through your door. We are usually the first people to see a patient, have no investigations to hand and often rely on good old-fashioned history taking and examinations. I loved being able to assess a patient and working out what could be causing their symptoms. I enjoy the variety of general practice - we're lucky to see people from all walks of life, any age and any ailment you can imagine.
Today I have seen a chef with contact dermatitis, counselled a couple who presented with concerns about infertility, treated a patient with an exacerbation of his COPD, seen a teenager with anxiety, assessed a pre-schooler with constipation, treated a mechanic with back pain, assessed and referred a patient with a suspected transient ischaemic attack (TIA), discussed hormone replacement therapy (HRT) with a woman struggling with symptoms and seen a patient with a fever who had just had chemotherapy treatment. All this in an hour and a half. General practice is very busy and there is no time to be bored.
What do you consider to be the most rewarding and challenging aspects of your job?
It's an absolute privilege working for the NHS and being a doctor. I try and remember this every time I'm having a particularly bad day or feeling overwhelmed by the sheer volume of work in general practice. Patients trust us with information about their lives that some don't even share with their loved ones. Being able to care and support them in times when they are most vulnerable and unwell is very rewarding. In general practice, we are fortunate that we can follow up patients and being able to see someone once they have overcome a difficult time in their life or a period of illness makes general practice very unique and rewarding.
There are many challenges to working in general practice. The demand for appointments, the difficulty to recruit and retain general practitioners, patient expectations, the rise in admin, the complexity of patient needs are just some that come to mind. My personal challenge is the 10 minute consultation. I am always looking at ways to improve the way we work in general practice, as are all general practitioners I guess. It is really important to remain resilient in these challenging times but also continue to provide good quality care to our patients.
How do you consider the role of the GP has evolved in your time working in this field?
General practice has certainly changed since I qualified. Our practice now works as a multi-disciplinary team and we have employed a paramedic and nurse practitioner. We now adopt a full telephone triage system and offer telephone appointments, if appropriate. We are trying to work smarter and be effective given the increase demand on our service. I don't think general practice was ever a 9-5 job but in recent years the hours have increased, as has the workload.
Whilst I try and stay positive, I'm not sure things will change for the better. In the current climate, in order to survive we need to continue providing patients with good care but also maintain the health and wellbeing of our staff . I am fortunate to work in a very supportive practice. I feel part of a team and know that the practice is always looking at ways to improve patient care, patient access and values their staff and prioritises their wellbeing.
On International Women's Day, what would be your message to other women who are considering a career in medicine?
Being a doctor is great but is not without its challenges. If I had to pick again, I would always choose medicine. My advice to anyone considering medicine is to be realistic. I think I was very naïve when I went to medical school. I did not truly appreciate how tough the job can be. I would always suggest speaking to doctors, shadowing them, being open and asking questions about their work, what this entails and the challenges they face.
Being prepared is the key. Thankfully, the 'this is how it is' attitude is changing and we are getting better about talking about the difficulties we are experiencing and being offered support to overcome these. If anyone is considering a career in general practice, please feel free to speak to me. It's busy, hectic, and sometimes stressful but there isn't anything else I'd rather do.
This page was correct at the time of publication. Any guidance is intended as general guidance for members only. If you are a member and need specific advice relating to your own circumstances, please contact one of our advisers.