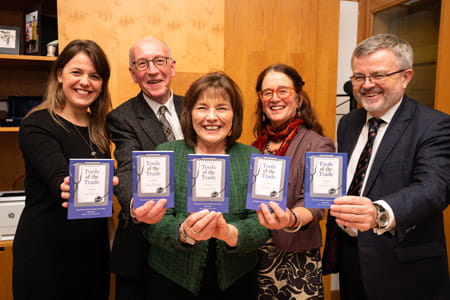 The occasion also presented an opportunity to highlight MDDUS support for Tools of the Trade, a book of poetry developed in partnership between MDDUS, RCGP Scotland and the Scottish Poetry Library, which is given to every new doctor graduating in Scotland. Featuring the works of much-lauded poets, including Michael Rosen and Kathleen Jamie, Tools of the Trade is designed to support GP wellbeing and to offer medical professionals the opportunity to reflect on how they are caring for themselves, as well as the medical attention they are providing to their patients.
Secretary Freeman was also joined by (left to right) Carey Lunan, Chair of the Royal College of General Practitioners (RCGP) Scotland, Dr John Gillies and Dr Lesley Morrison, both editors of Tools of the Trade.
This page was correct at the time of publication. Any guidance is intended as general guidance for members only. If you are a member and need specific advice relating to your own circumstances, please contact one of our advisers.