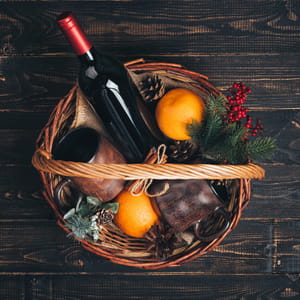 NO doubt many NHS patients will be hugely appreciative of the efforts of healthcare staff over the past difficult months – despite what you might read in some newspapers.
This holiday season that generosity of spirit may extend to the odd gift bottle of wine, box of chocolates or something even more substantial. It's a common dilemma for clinicians – when are "tokens of gratitude" more than just that and is it ever really okay to accept a gift from a patient?
The pandemic raises even more concerns. Would there be a serious coronavirus transmission risk for items brought into GP surgeries or hospital wards?
MDDUS receives regular queries from individual members in regard to patient gifts. One such contact from a GP asked for advice in regard to a watch he received, along with a note from a patient thanking him for providing excellent care. An enclosed receipt revealed the watch cost over £400 pounds. The practice partners were happy for the GP to keep the watch, as the patient would probably be upset if it was returned, but the GP wanted to check with us if this was appropriate.
GMC guidance on Good Medical Practice provides that doctors must not ask for or accept any inducement, gift or hospitality that may affect (or be seen to affect) the way in which they prescribe for, treat or refer patients. In its supplementary guidance on Financial and commercial arrangements and conflicts of interest, the GMC states doctors must be honest in financial dealings with patients. It goes on to stipulate that doctors must not encourage patients to give, lend or bequeath money or gifts that will "directly or indirectly benefit you".
It cautions in general that any doctor receiving a gift or bequest must always consider the potential damage this might cause to the patient's trust in the doctor or the public's trust in the profession. Doctors should therefore refuse gifts or bequests that could be perceived as an abuse of this trust.
However, the GMC advises that doctors may accept unsolicited gifts from patients or their relatives provided:
this does not affect, or appear to affect, the way you prescribe for, advise, treat, refer, or commission services for patients
you have not used your influence to pressurise or persuade patients or their relatives to offer you gifts.
Bearing all of this in mind, and after talking through his dilemma with the MDDUS, the recipient of the £400 watch considered that such a lavish gift would at least give the appearance of affecting future treatment of the patient. The doctor decided that it was most appropriate to explain politely to the patient that professional guidance prohibits him from accepting this generous gift, while emphasising that the sentiment was very much appreciated.
NHS bodies across the UK also have published guidelines on the management of "conflicts of interest". Most permit staff to receive small tokens of gratitude from patients, such as a box of chocolates, but require them to decline anything that could be seen to affect professional judgement.
Guidance from NHS England on managing conflicts of interest states that modest gifts under a value of £50 may be accepted and do not need to be declared but those over that amount should be treated with caution and only be accepted on behalf of an organisation and not in a personal capacity. These should be declared by staff. Multiple gifts from the same source over a 12-month period can be treated in the same way as single gifts where the cumulative value exceeds £50.
The NHS England Standard GMS Contract states that contractors must keep a register of gifts with an individual value of more than £100. The register must include among other details the name of the donor, the nature of the gift and it's estimated value and the name of the person or persons who received the gift. These regulations only cover England but equivalent rules operate in the rest of the UK.
NHS organisations are currently being offered unprecedented levels of donations and gifts, according to the Healthcare Financial Management Association (HFMA). The organisation has produced a checklist to ensure that all gifts and donations accepted are appropriate and are recorded correctly. It includes a flowchart that sets out considerations that need to be made when a gift or donation is received and also includes guidance on setting up proper procedures.
Members should also be aware of the provisions of the Bribery Act 2010, which now covers all aspects of criminal law. The Act repeals all previous statutory and common law provisions in relation to bribery, instead replacing them with the crimes of bribery, being bribed, the bribery of foreign public officials, and the failure of a commercial organisation to prevent bribery on its behalf. This could be relevant, for example, if a doctor is suspected of receiving a gift or money as an inducement into providing a particular service or the offer of preferential treatment.
There are also potential practical risks in the current pandemic, with uncertainty about how Covid-19 is predominantly spread. The Centres for Disease Control currently advise that the coronavirus appears to be most often transmitted via respiratory droplets. The virus can survive for a short period on some surfaces and it may be possible that people can get Covid-19 by touching a surface or object that has the virus on it and then touching their own mouth, nose, or possibly their eyes.
MDDUS advises that you should contact your health board or CCG for guidance on local policy for accepting tangible gifts from patients.
ACTION: Make sure that your organisation maintains a gift register, and consider the guidance and relevant law which applies to the area in which you are practising. Consult your local health board on infection control measures in regard to tangible patient gifts.
RESOURCES
This page was correct at the time of publication. Any guidance is intended as general guidance for members only. If you are a member and need specific advice relating to your own circumstances, please contact one of our advisers.