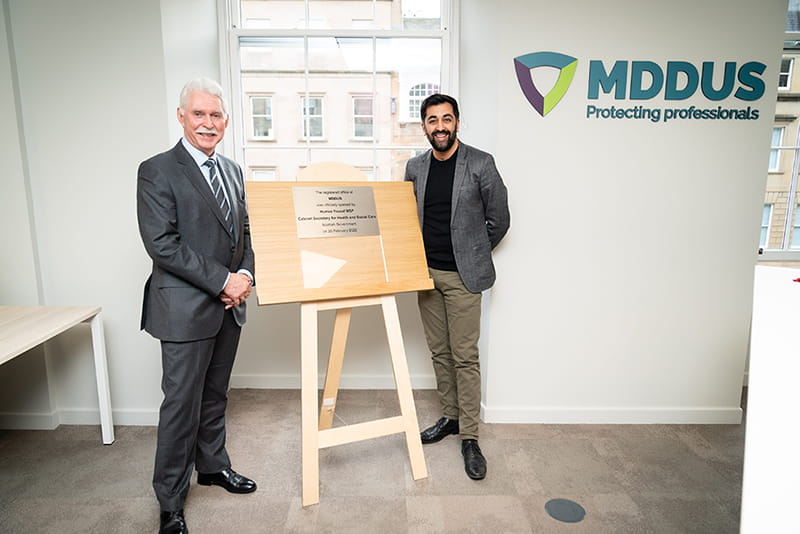 Scotland's leading defence organisation for doctors and dentists has moved its operations to a new, central Glasgow location.
The Medical and Dental Defence Union of Scotland (MDDUS) will now be based at 206 St Vincent Street, with plans to further strengthen its position as a provider of quality employment in central Scotland.
The office was formally opened today (Friday 25 February) by Humza Yousaf MSP, the Scottish Cabinet Secretary for Health and Social Care.
Mr Yousaf said: "I'm pleased to mark the opening of the Medical and Dental Defence Union of Scotland (MDDUS) new offices in Glasgow; a sign of its commitment to protecting our doctors and dentists as well as of our recovery from the pandemic."
MDDUS is a mutual organisation and represents the professional interests of more than 54,000 doctors and dentists across the United Kingdom.
Unlike traditional insurers and law companies, it employs doctors and dentists who are experts in dealing with the regulatory and legal issues its members can face.
MDDUS also provides its members with indemnity support, risk management and wellbeing support. Its move to new premises comes 120 years after it was established by a group of Scottish doctors and dentists concerned about an increase in clinical negligence being pursued in the courts.
Professor Iain Cameron, the Chair of MDDUS, said: "In common with our new home in St Vincent Street, MDDUS is a dependable and long-standing presence in Glasgow.
"This move is an important part of our response to the pandemic and our colleagues' desire to work more flexibly between office and home.
"Our offices have been specifically designed to incorporate the best of what was learned about agile ways of working during the pandemic to provide our members with a new kind of quality service."
Johanne Roberts, head of corporate services at MDDUS, said: "We've used our move to transform the working environment we have.
"Our new Glasgow office provides colleagues with a modern, flexible workspace that facilitates team collaboration. Significant investment in new technology means we are better equipped to support our members from wherever we are working.
"Our commitment to tackling climate change was also at the forefront of the design brief we gave at the outset of our move. The outcome we see today will enable MDDUS to reduce the impact of our business on the environment."
MDDUS employs 125 people in Glasgow, and a further 52 at its office in central London. It is Scotland's leading clinical defence organisation, and a member of the Association of Financial Mutuals.
PHOTO: MDDUS Chair Prof Iain Cameron opens the new office with Cabinet Secretary for Health and Social Care Humza Yousaf MSP
ENDS
For further information please contact Alison Hardie, head of public affairs and strategic communications, on ahardie@mddus.com or on 07501 421398
This page was correct at the time of publication. Any guidance is intended as general guidance for members only. If you are a member and need specific advice relating to your own circumstances, please contact one of our advisers.