MDDUS has been at the forefront of negotiations with the Department of Health and Social Care (DHSC) and professional bodies throughout the UK to shape and influence what a state-backed indemnity scheme (SBIS) might look like.
You can read our response to the Welsh Government here and key messages for the UK Government here on why general practice deserves better.
We have been speaking to all levels of government to try to ensure that the form of SBIS chosen is best for GPs, best for patients and best for the taxpayer. There has to be a comprehensive end-to-end service – one that seeks to protect the reputation of the individual doctor as well as the balance sheet of the NHS. That's vital to protect patient confidence and relationships. The current model for hospital indemnity doesn't provide that and isn't therefore fit for translation to the primary care context.
There has to be a comprehensive end-to-end service - one that seeks to protect the reputation of the individual doctor as well as the NHS balance sheet.

Chris Kenny, MDDUS CEO
Driving down costs
Government has always made clear that this is not a nil-cost scheme. So GPs need absolute certainty on how any scheme will be paid for – in 2019/20 and future years. That means precise identification of where reductions are being made elsewhere in GP remuneration and primary care spending. That's a key issue for today's partners in particular – but also those who aspire to partnership in future.
The rising cost of indemnity has been a major issue for GPs in England and Wales. MDDUS believes that the reasons for this are down to Government's failure to take decisive action to reduce the increasing number and value of claims and the addition of significant new cost by the misguided lowering of the discount rate to -0.75%.
We and the rest of the MDO sector continue to urge action on these issues, which state-backed indemnity does nothing to tackle. Indeed, dependent on the model chosen, it may well increase claims costs and numbers.
As a not-for-profit-mutual funded by our own members with no shareholders to pay, we have been able to keep our costs as low as we can, ensuring adequate indemnity for all our claims: historical, current and future.
Importantly in the current scheme GPs have the right to choose the MDO service they want. MDDUS believes that GPs must be able to retain that choice, free of financial pressure, rather than to be brigaded into a claims-only monopoly state system. Those who want the integrated service must be able to access it. Those who want absolute assurances that their personal professional interest, not the financial interest of Government, will be at the heart of the decision-making must be able to opt for that service.
Why you still need an MDO
A state-backed scheme will not cover you for non-NHS work, representation at inquests, GMC hearings and disciplinary investigations and will also not include advice and support – something highly prized by MDDUS members.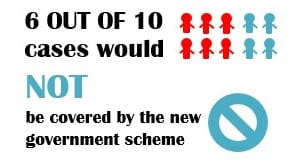 This is evidenced by the fact that over the past 12 months, MDDUS' team of expert medical advisers handled 6,561 calls and have opened nearly 4,000 new case files from GP members relating to issues NOT included in the government scheme.

As these figures show, there are a huge range of areas where GPs will not get support from the new scheme and as a result will need to remain in membership with MDDUS to ensure they continue to have access to expert assistance and support. We will still be there for you.
Find out more about why you should remain a member of MDDUS here.

That's why the BMA recently reminded GPs of the importance of retaining their MDO subscription when SBIS is introduced. Advice from the BMA states that "MDOs will continue to play an important role" and "it will be essential to maintain medical indemnity."
What do you need to know?
MDDUS shares Government's objective of driving down the cost of indemnity for GPs, but wants to do so in a way that retains standards, GP centrality and GP choice. As it stands, much of what is proposed remains unknown and information has been slow in coming out about what exactly is proposed and how it will be run. This delay is unhelpful for us all; we cannot advise our members what is best for them without more detail and the MDOs cannot plan ahead for the future.
We will continue to speak out on behalf of our members to ensure that they receive a full professional service, and we are continuing to press the DHSC to provide comprehensive details so we have more information to pass on to you so you can take decisions about your indemnity cover.
Government's failure to reform the law of tort and cap costs that lawyers are taking from the NHS and GPs at a reasonable level has been the main driver in rising indemnity costs. That's outside the control of medical defence organisations and a state-backed scheme doesn't address that. Health expenditure generally and GP remuneration in particular will continue to be squeezed because of this failure.
Click
here
to read about the assurances we are seeking on your behalf.
Remember that GPs will still need MDDUS to provide comprehensive protection that state-backed indemnity alone won't deliver. Read more
here
.
What are we doing?
MDDUS has been speaking with Government officials and with the politicians and decision makers to ensure any scheme is best for our members and patients: past, present and future. The claims experience of GPs differs very markedly across the different parts of the UK and we do not see anything like the same strength of case for action in Scotland and Northern Ireland as in England and Wales.
We will continue to lobby and engage with key influencers about the scheme and ensure that the views of members and patients are at the forefront of the decision-making process.
Visit our
Media Centre
or follow us on Twitter on @MDDUS_News to keep up-to-date with the latest news.
Find out more
We have worked hard to answer as many questions as we can on what the scheme may look like based on the limited information we have. You can click below to read our FAQs.
If you have a question that is not answered here then please contact us on
questions@mddus.com
where we will give you a personal response. We will update our FAQs with any new and relevant questions posed.
To find out more about membership with MDDUS visit our
Join page
.
WHAT DO WE KNOW ABOUT THE STATE-BACKED INDENMNITY SCHEME FOR GPs?